School Goes Out Of Its Way To Make Graduation Special
By Jeremy Van Duyne

HAWLEY — The 2020 senior class for Wallenpaupack Area High School held their graduation ceremony on June 19.
With the COVID-19 pandemic shutting down schools and gatherings of large crowds, many school districts across the country have either postponed their graduation ceremonies or outright cancelled them. The school district in Wallenpaupack, however, wanted to ensure that they did hold a commencement ceremony. After all that has been lost this school year thanks to the pandemic, they wanted to ensure that their students had their accomplishments celebrated.
"We really wanted to make sure we went above and beyond to make this a special opportunity for our seniors," said Wallenpaupack Area High School Principal Jim Kane. "Especially since they lost many of their privileges. They lost prom, class plays and a lot of other things. These were unfortunately taken away from them. We wanted to make sure that commencement was as special as it possibly could be."
The ceremony took place at the Wayne County Fairgrounds, with students attending in a car with their family members. Spectators were also allowed to come to the ceremony in their cars. Students were allowed to trim their cars with a wide array of decorations to help celebrate their graduation. Everyone who attended would be able to tune into a local radio frequency so they could listen to the ceremony in their cars.
The graduation ceremony was carefully planned out to follow COVID-19 guidelines. After initially coming up with the idea to hold the ceremony at the fairgrounds, school officials ran it by student leaders. After the feedback from students showed enthusiasm and joy for the idea, it was just a matter of coordinating with local officials to get everything set up.
"Mr. Gunuskey, our assistant superintendent, came up with the idea of utilizing the fairgrounds," said Kane. "There is plenty of space to have students in their vehicles, have guests available to come and have students participate in commencement with their families."
"Mr. Gunuskey coordinated all the traffic protocols with the police and local fire department. Everyone offered their services. Hawley and Honesdale boroughs both offered services help us out. We had protocols in place."
Students first met up at the high school with their families and cars to get organized by event staff. From there they headed to the fairgrounds in a car parade, being led by both fire and police officers. Along the way, bystanders along the streets cheered them on.
Residents all over both Hawley and Honesdale lined up on the sidewalks to salute the passing kids. Business owners stood outside their shops, homeowners stood outside on their porches. Residents, teachers and Wallenpaupack alumni held up signs to show their support. The parading cars thanked them by honking their horns.......For more infomation subscribe to our paper.

Could Municipality Enforce
State COVID-19 Rental Ban?
By Wayne Witkowski

BUSHKILL — How much of a role does a local ordinance play in enforcing a state emergency declaration?
That was the challenge by Stroudsburg attorney Joseph T. McDonald, representing Saw Creek Estates homeowner Eugene Bykovski, who appealed the revoking of his short-term rental permit. It came during the Lehman Township Board of Supervisors' 2 ½-hour long public hearing held last week.
The township claims that Bykovski did not resolve three notices issued by township Zoning Officer Stanley Whittaker that found he defied the state's ban of rentals during its red phase of the COVID-19 pandemic. After the third notice, the permit can be revoked.
Whittaker was one of four people who gave testimony during the hearing. Saw Creek Director of Community Relations Jessica Vandervliet; David Martin, who stepped down as general manager of Saw Creek after 15 years; and resident Bruce Gold also were called to testify. The homeowner was charged, not only with operating a short-term rental at his 363 Saunders Drive residence under the name Modern Pocono Properties LLC but also with extending another month beyond the 30-day short-term rental period to a long-term rental for resident Donna Sharp.
"He thought he was getting around it," said Lehman Township Board of Supervisors Chairman Rob Rohner of the short-term rental ban, after the hearing.
McDonald has 10 days to send back to the supervisors a legal memorandum and then awaits a final decision by the supervisors. If they rule against Bykovski, McDonald could file a court appeal.
Rohner said the township already has heard from another short-term renter who may appeal a third notice. "We expect to hear more," said Rohner of the appeals........For more infomation subscribe to our paper.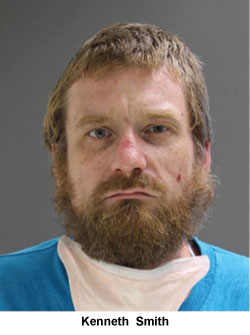 Two Arrested In
Milford Seizure
Of Heroin Stash

MILFORD — Pike County District Attorney Ray Tonkin and the Pennsylvania State Police announced the seizure of a large amount of suspected heroin/fentanyl and the arrest of two individuals on June 25.
Kenneth Smith, 38, of Honesdale, and Paul Wassel, 51 of Taylor, Pa., were charged with possession of a controlled substance with intent to deliver, i.e. heroin, and criminal conspiracy to deliver a controlled substance, both felonies. Smith was also charged with delivery of a controlled substance, heroin, for a previous sale of the drug and tampering with evidence for allegedly attempting to hide some heroin in his mouth when troopers stopped him.
The State Police vice unit, along with the Pike County District Attorney's Office, conducted a two-month investigation into the supplier of a large quantity of heroin to Northeastern Pennsylvania.
They said the investigation revealed that Smith would be bringing a large quantity of heroin/fentanyl from Paterson NJ to Northeastern Pennsylvania during the overnight hours of June 25th.
Troopers made contact with Smith at a hotel in Milford Township at 4:30 a.m. June 25th. Smith and Wassel, his passenger, were arrested on probable cause of possession of a controlled substance with intent to deliver and criminal conspiracy.
After the arrest, troopers obtained a search warrant for the vehicle Smith was driving from Magisterial District Judge Randy Schmalzle.
According to the charges troopers searched the vehicle and located over 2,300 bags of suspected heroin/fentanyl located in the engine compartment of the vehicle and over $600in cash. The street value of the heroin/fentanyl is approximately $23,000.
Both Smith and Wassel were arraigned on the charges before Magistrate Deborah Fischer and bail set at $800,000 each. Both were remanded to the Pike County Correctional Facility in lieu of posting bail.