County Granted Space For Courthouse Design Change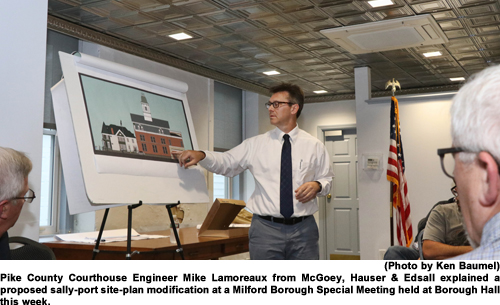 MILFORD — The Milford Borough Council voted 4-3 Tuesday to allow Pike County to encroach six feet on the borough right-of-way on West High Street for a prisoner sally port.
"The essence of what we are voting on is the safety of getting in and out of the building," Council President Frank Tarquinio said during discussion before the vote was taken.
As the county neared completion of its multimillion-dollar courthouse annex, a last-minute request by County Sheriff Kerry Welsh to change the sally port design encountered community opposition, sparking what seemed destined to become another protracted battle like that which broke out over the original annex design.
Neighbors of the courthouse wrote letters saying the proposed entryway that would stick out beyond the courthouse footprint would erode the beauty of the historic district.
Mayor Sean Strub urged the council to "take a breather and get outside opinion" saying the design change only recently came up.
But Tarquinio asked for a vote and Councilman Aaron May moved to "allow the county to have six feet." Luke Turano seconded the motion, subject to conditions.
Besides May and Turano, Tarquinio and Annette Haar voted yes on the motion, and Meagen Kameen, Robert Ciervo and Adrianne Wendell voted no.
Strub said the new design proposal still must go through the Borough's Planning, Zoning and Architectural Review Boards.
On Monday night, the Milford Borough Council had convened a special meeting to evaluate what County officials and residents had to say about the county's proposed site-plan modification for the sally port (area where prisoners enter and exit) that is part of the Courthouse upgrade.
The county sought the following from the borough:
• Approval for site-plan modifications that would make the sally port more secure;
• Ceding to the county part of the borough right of way on West High Street to accommodate the expanded footprint of the sally port;
• The county needs a variance for a six-foot encroachment of the borough right of way (carved from the 20-foot right-of-way setback on West High Street) from the Milford Borough Zoning Hearing Board;
• The county also needs a Milford Borough Architectural Review Board (ARB) approval for the site design, which is in a borough and national historic district. The Courthouse is also a nationally recognized historic building.
At Monday's meeting, according to County Engineer/Courthouse Project Manager Mike Lamoreaux, Pike Sheriff Kerry Welsh suggested the need for the change for additional security at the sally port. He consulted with county department heads and commissioners.
Commissioner Matt Osterberg said, "Commissioners agree that safety should be the primary concern."....... For complete story, get this week's issue.
Veterans Suicide Support Group Will Meet At Boro Hall


By Ken Baumel
MATAMORAS — Borough Council members approved use of Borough Hall by a veterans suicide support group, Joint Task Force 22 to Zero (JTF).
JTF founder Marc Cavelli, a Pike County resident, requested building use at 7 p.m. on Wednesday, May 30. Council members took action at a regular monthly council meeting held at Borough Hall last week.
Cavelli said that the organization title came from studies done about two years ago showing that, across the nation, 22 veterans a day attempted suicide.
Although the daily count increased to 30 in the interim, Cavelli said that he had already formed his support group and had applied for a 501C3 not-for-profit status, so would keep the name for now.
Cavelli spoke after the meeting about the years he struggled to find effective support for his own experience with Post Traumatic Stress Disorder (PTSD) and suicide after he completed two tours in Iraqi combat zones.
Cavelli said, "I found the right counselors and eventually formed my own support group that really helped me. I decided that I wanted to share my network with others.
"I started two years ago. We use social media to let veterans struggling with suicide know that there are some of us who understand and care.
"We're on www.facebook.com, Twitter, and Instagram. We have more than 6,500 followers on Facebook and a thousand or so each on Twitter and Instagram.
"We've got people in all 50 states. Many are from Colorado, California, and Pennsylvania, where there are a lot of veterans.
"We have an executive board and some non-voting members on a committee. Our group expects to have a website up in a few weeks, but we don't have an office or phone contact yet," noted Cavelli. "But we feel we are ready to launch the local network."
For those who attend the group's first network meeting who might need to contact a JTF member, some officers would provide their cell phone number, noted Cavelli...For complete story, get this week's issue.