Crowd Says Noise Ordinance Targets Bar & Grill
By Wayne Witkowski
DINGMANS FERRY — An emotionally charged SRO crowd that grew more boisterous at times made a lot of noise about the proposed Noise Ordinance during a public comment period at the Delaware Township Board of Supervisors workshop last week.
Most of the large gathering was expected to voice their comments over another item also up for public comment: a short-term rental ordinance. But it quickly became evident that they were there to criticize what they regarded as the low decibel threshold in the Noise Ordinance and what many regarded as a targeting of a local business – SideStreet Bar & Grill in Dingmans Ferry – that had been under scrutiny by the township amid reported resident complaints.
A few residents also spoke against some elements of the Short-Term Rental Ordinance.
Supervisors later tabled a motion to set a date for public hearings on both ordinances, saying more review was needed for both.
A number of residents demanded Board of Supervisors Chairman John Henderson recuse himself from the discussion and any subsequent action, claiming that the ordinance is a result of his own bias against the establishment. Henderson said he would not do so, claiming that at a prior meeting when SideStreet owners attended a meeting to discuss late-night noise issues that he had praised the upgrades of the business under the new owners.
Some of the gathering threatened to vote against board members in the next elections and yelled out against residents who spoke at the podium critically of noise from the bar they said disturbed their family's quality of life. Some pointed out that businesses like SideStreet were financially pressed the last two years by COVID-19 restrictions and that the business has supported other businesses and local charity initiatives and that SideStreet has helped local employment. Another speaker, who identified himself as a cook there, said the ordinance "is trying to destroy a bar that has a recreational purpose for everyone."
Township Solicitor Tom Farley asked the gathering to calm down and not call out, pointing out that no final decision would be made on the ordinances that night........................For more information subscribe to our paper.
Shohola Supervisors Tackle Late Mail Delivery Issues
By Jeremy Van Duyne
SHOHOLA — A sudden increase in local residents complaining about the quality of the area's mail service has led to action being taken by local leaders.
The Board of Supervisors for Shohola Township met last Thursday for their first meeting of the 2022 year.
At the meeting, Supervisor Keith Raser addressed an increase in complaints he has been receiving from local residents regarding the declining quality of the mail service in the township.
Raser says he has been inundated with calls from local residents claiming that they haven't been receiving their mail delivered regularly. According to him, the problems with the mail service began shortlåy after the death of a local deliverer a couple of months ago. Since then, the post office seems to be having problems getting the mail delivered regularly.
"I was approached in the last couple of days by two or three different people complaining about the mail service in Shohola," said Raser at the meeting. "Because of the fact that a former driver died, they can't get anybody to come down here and deliver the mail on a regular basis. Residents say they are getting their mail every other day."
Chairman George Fluhr backed up Raser's claims. He says his own mail hasn't been delivered in three days, much longer than the "every other day" problem that Raser mentioned.
"I can concur with what Raser is saying," Fluhr said.
One of the speculations about the problems with the mail service has been staffing issues. A shortage of delivery drivers brought on by illnesses and a lack of new applicants to replace them have left the post office without the required workers needed to cover the area properly........................For more information subscribe to our paper.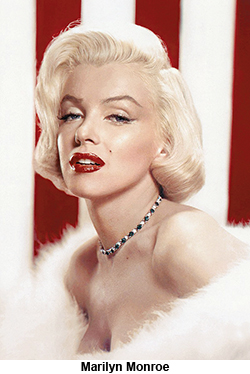 DiLeo Featured In YouTube Video On Marilyn Monroe
By Jeremy Van Duyne
MILFORD — It never took Marilyn Monroe long to make a big impression, even before she was famous. One such impression is explored in "Three Minutes of Marilyn," a YouTube video featuring Milford author John DiLeo. It examines Marilyn's three minutes of screen time in "All About Eve," which went on to win the 1950 Best Picture Oscar.
DiLeo explains, "Marilyn has inspired more 'rescue fantasies' than any other actress. We all wish we could have saved her, and we wonder what she might have accomplished if not for her tragic death."
The entire world seems to have an endless fascination with Marilyn. She's been the subject of countless songs, plays, books, documentaries, and essays.
Was she talented or just sexy, a flirt or a feminist? A dumb blonde or a deep thinker? The most truthful answer may have come in a line she delivered in "Gentlemen Prefer Blondes": "I can be smart when it's important, but men don't like it."
"Three Minutes of Marilyn" is based on just one of 100 profiles in DiLeo's new book, "There Are No Small Parts: 100 Outstanding Film Performances With Screen Time Of 10 Minutes Or Less," and is playing now on YouTube at this link: https://youtu.be/hSJ8bYYN2Ds. The book is available for pre-order on Amazon and other online bookstores........................For more information subscribe to our paper.