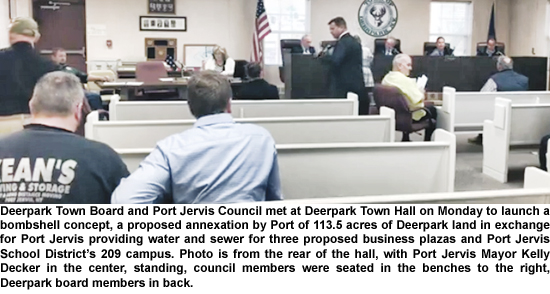 Port To Annex 209 Campus, Commercial Acreage
Plan To Share Taxes With Town Of Deerpark
By Ken Baumel
PORT JERVIS — On Monday, the Deerpark Town Board and the Port Jervis Common Council met in Deerpark to pass a stunning initiative, a joint resolution to explore Port annexing 113.5 acres of Deerpark property, including the entire 54-acre Port Jervis School District's Route 209 campus, related to future development that requires Port's central water and sewer services. The two government bodies also each approved advertising for a public hearing to present the proposal and solicit feedback from the public and stakeholders.
The hearing is scheduled at Deerpark Senior Center at 7 p.m. on May 15. The hearing includes a public comment period as required by New York State Municipal Law. Mayor Kelly Decker reported that Deerpark and the school district reached out to Port Jervis a few months ago for aid in solving current and future development problems. Decker believes that the resolution under discussion would likely yield Port a major financial windfall and allow Deerpark and the district to enjoy major financial benefits. Business plaza development had stymied Deerpark for years because Deerpark, absent central sewage facilities at or near those three plaza proposals, would have to develop one or more central water/sewer infrastructures.
Decker noted that Deerpark already has potential tenants lined up for plazas. City Clerk-Treasurer Robin Waizenegger said that full build-out would probably take two to three years. The sites are at the following locations:
• 60 acres near Dick's Concrete on Ryan Street and Kingston, slightly north of Anna S. Kuhl Elementary School across from the school. The proposal is for a commercial/industrial park;
• 18 acres at Tri-states for a proposed hotel, movie theatre, restaurant, and multiple retail stores at River Country Town Square, a commercial plaza;
• 11.5 acres for a mini-plaza at the former Joyland property off Hamilton Avenue.
Decker said that after the build-out, Deerpark and Port are discussing a 50/50 property tax split and a 50/50 sales tax revenue split. The formula is still subject to further analysis, discussion, and cost analysis between this week and through the public hearing. Orange County shares a portion of all sales tax revenue with municipalities. Port, which suffered a population decline in the 2010 U.S. Census, lost $300,000 a year (starting last year) due to part of the county's tax-distribution formula to municipalities based on population.
City Clerk Treasurer Robin Waizenegger said in an interview on Tuesday, "I am hopeful that the sales tax revenue from the Port share from the three plazas could make up for that $300,000 shortfall... for complete story, get this week's issue.