Plenty Of Salt On Hand – Now, About Those Potholes …
By Lisa Mickles
DINGMANS FERRY — This winter has put a strain on the roads and salt supplies for many municipalities throughout the state including PennDOT, but Delaware Township holds their own.
Roadmaster Charlie Kroener said at last Wednesday's meeting that they have 200 tons of anti-skid with more to come and are already preparing for any upcoming winter storms. The township has approximately 25 miles of road to clear and treat with anti-skid.
"Our road crew and staff have done such a good job of monitoring the salt supply," said Chairman Tom Ryan while noting that they recently lent neighboring Lehman Township 20 tons to help with their roads.
The supervisors complimented Kroener on the exemplary job he and his staff have done this winter season.
"I have received nothing but compliments from the public on our road conditions. You and your staff are doing a fantastic job," said Ryan.
On the flip side, Chairman Tom Ryan said he has been receiving major complaints about big potholes on PennDOT roads... for complete story, get this week's issue.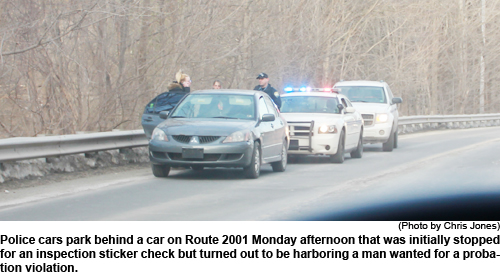 Probation Violator Nabbed After Chase
By Chris Jones
MILFORD — What started as a routine inspection sticker stop Monday afternoon turned into a police pursuit of a Milford man wanted for a probation violation.
Jack DaSilva, assistant chief of the Milford Police Dept., said that patrolman Jason Evers pulled over Alan Spangenburg Jr., 31, of Milford, at 3:40 p.m., but Spangenburg sped off in his car up Route 2001 outside Milford with his wife and child in the car.
Spangenburg left the car on the side of the road between Christian Hill Road and Sawkill Road and fled on foot, with sheriff deputies looking for him. After running license checks, the Pike County Communication Center radioed that there was an active warrant for Spangenburg, who was described as wearing a blue hat and blue sweatshirt, Pike County Sheriff Phil Bueki said Tuesday morning.
Meanwhile Sheriff's Deputy Gumble and Sgt. Don Roa were traveling north on Route 2001 while Deputy Sal Pinzone and a Milford officer refueling at the Milford Turkey Hill heard the bulletin and headed south on Route 2001.
Bueki said the police caught up with Spangenburg at 183 Route 2001, near the Cliff Park entrance. With an active warrant, Spangenburg did not need to be arraigned. Deputies took him to the Milford Police Dept headquarters and then at 5 p.m. to the county jail.