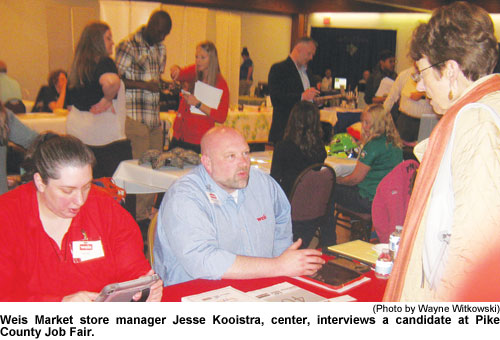 Expanding Companies, Newcomers Drive Job Fair
MATAMORAS — Growing businesses and a few new ones opening soon were among the 70 companies represented during the Working Pike Job Fair on Tuesday at the Best Western Hunt's Landing.
More than 250 job seekers streamed past the wide variety of employers' tables in the fourth annual event. The Pike County Dispatch is a lead sponsor.
"Unemployment is at 4 percent. Employers are expanding," said Cynthia DeFebo of the Pike County Workforce Development Agency.
Not all visitors were unemployed. Some were looking for better opportunities.
"I don't know if it's a huge amount of those (job-seekers), but there are some and others are looking for a second job," DeFebo said.
Event organizer Randy Philhower estimated that three-quarters of the tables had return employers from past job fairs and credited the improving economy as a trigger for many companies with growing business and more employment opportunities.
She said five businesses had set up tables at the job fair for the first time and said the home care and medical industries continue to be a big employer as well as jobs in tourism, the second largest employer in the area. Representatives of Grimm Construction of Waymart said there is a need for carpenters and other skilled trades workers, pointing out more senior housing contracted work.
"Again it's another successful year for the Job Fair and it seems to get bigger and bigger as residents look to find better job opportunities and jobs that are closer to home," said Matt Osterberg, chairman of the Pike County commissioners, who swung by.......For more information pick up a copy at a local vendor or subscribe.

Supervisors Oust Stroyan, Willis From Planning Board
By Jessica Cohen
MILFORD — Township supervisors voted to remove Kevin Stroyan and Ray Willis from the planning board on Monday night. They appointed Kevin Nearing and Harry Forbes to replace them, with Larry Kotar as alternate. Township attorney Anthony Magnotta said the decision resulted from Willis and Stroyan's publication of a letter in the Pike County Dispatch about their opinions on a proposed zoning amendment, without consulting other planning board members.
"We like to do things in open meetings, not behind closed doors," said Magnotta. "Findings of fact and conclusions of law will be served on attorney Anthony Waldron, who attended hearings on their behalf. They have 30 days to file an appeal with the Pike County Court of Common Pleas if they disagree with our decision, which I'm sure they will."
In their published letter, Stroyan and Willis voiced their opposition to a zoning amendment that would allow mixed uses on commercially zoned property.
"You can go out and shop and play and go home," said Supervisor Chair Gary Clark of the amendment's intent. "It's nice and trendy, and you have a place to park," he said, referring to a mixed-use proposal on the three-lane near the township building. "But change is hard."
He noted the many local changes he had seen, having come from a family that arrived in Dingmans Ferry from Holland in 1738 and lived in the area all his life.
"When the park came, people went crazy. People didn't get fair prices for their property," he said, referring to the Delaware Water Gap National Recreation Area. Its creation, initiated as a dam project, displaced 15,000 people via property condemnation. "But now a third of the county is available for hiking – 138,000 acres," he said. "You can't cover it all with commercial property."......For more information pick up a copy at a local vendor or subscribe.