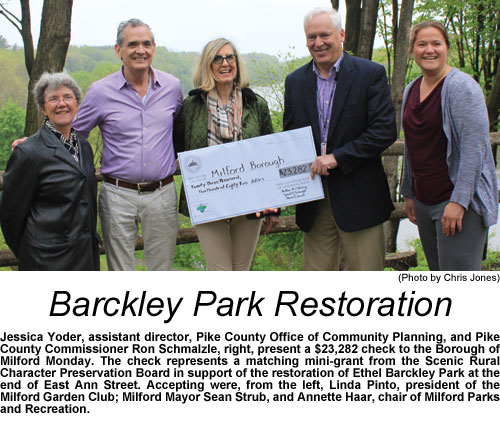 Lifeguard Hiring, Boat Buys Ready Akenac Waterfront
DINGMANS FERRY — Delaware Township's supervisors are making some quick, 11th hour moves to further prepare Akenac Park for the summer season that begins in just a couple of weeks.
The township for the first time appointed a part-time seasonal head lifeguard at the park. Enid Resto will fill that role from Memorial Day weekend through Labor Day weekend at a rate of $14 per hour. During their regular bi-monthly meeting last week, supervisors approved that appointment as well as rehiring two part-time lifeguards for this summer.
They said a head lifeguard is needed with so many visitors at the park and lake during the busiest times of the year, which include PEEC's summer camps on Wednesdays from July 3 to Aug. 21 and their Family Camp Weekends next Saturday and on July 4 weekend. The board approved both camps at the meeting. Resto also will oversee visitors and vacationers at the lake as well as family events there approved by the board.
Supervisors also agreed to purchase a boat and canoe for the park from Dick's Sporting Goods for $1,264.97.The board also approved closing off the entrance to the fishing dock for the public as it seeks a company to refurbish that and two smaller docks. The supervisors expect to decide who will do it and when the work will begin shortly at their next meeting on May 22 after gathering information on prospective companies.
Replacing the docks can be done this summer, said the supervisors during discussion at their workshop prior to their regular meeting. Township Public Works Director Vince Flatt said the dock's deterioration makes it "somewhat of a safety issue eventually."
"It's dangerous and only a matter of time when somebody would fall through the railings that are starting to go," Flatt said.
Supervisors said the newer designs for the fishing dock involve less maintenance.
The township received $9,340.50 from the Pike County Scenic Rural Character Preservation's Marcellus Mini Grant Program to restore and replace the docks and the township has matched that figure.
"We plan to replace the current fishing dock with a floating dock," explained township Administrator Krista Predmore afterward. "There is only one grant received for the replacement of one (fishing) dock. If the township decides to replace the two (other smaller) docks in the swimming area, the purchases would not be covered by a grant."
The township already has replaced the existing floating dock for swimmers in the middle of the lake......For more information pick up a copy at a local vendor or subscribe

.
Residents Concerned About Road Conditions
By Dakota Hendricks

SHOHOLA — Several Shohola residents spoke at the Supervisors meeting expressing their concern about the condition of Bee Hollow, a PennDOT road. According to a petition signed by several residents of Bee Hollow, the road has deteriorated to the point they are concerned for school bus traffic and other drivers. One resident said his brand new truck has needed two alignments in the past year due to road damage.
Supervisor Chairman Keith Raser said there are several ways to get in touch with PennDOT. He suggested concerned residents attend the next Road Task Force meeting, which will be held May 16th at 2 p.m. in the Commissioners Office, or call the PennDOT District Office or reach out to Senator Lisa Baker. Raser said Baker was instrumental in finding funding for the early paving of Twin Lakes Road.
Raser said Commonwealth Health is still interested in providing BLS and/or ALS services to the seven municipalities of Delaware Township, Dingman Township, Shohola Township, Westfall Township, Milford Township, Matamoras Borough and Milford Borough. Commonwealth says it is still working on compiling four bids, two ALS and two BLS contracts detailing 12- or 24-hour coverage.
Raser said Commonwealth is currently advertising in Scranton for personnel. Raser said 12-hour BLS coverage stationed in the Milford area would be beneficial as the Milford Fire Department is unable to operate their ambulance from 5 a.m. to 5 p.m. Monday through Friday due to a shortage of volunteers.
Shohola resident Carrie Thomas said she had concerns about the impact of a lawsuit she her and her husband are currently involved in with her neighbor, who claims that property owned on where the old road once ran is actually an "easement by implication." Thomas said "every Shohola landowner through whose property the Greeley-Shohola road once traversed may find that their private property ... is subject to public or local use by abutting neighbors." The Supervisors held a moment of silence to honor former Supervisor, Steven Dellert who passed away recently.