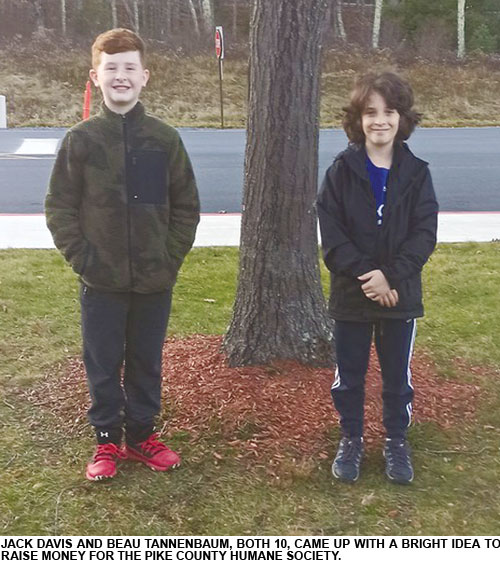 Two Boys, Kind Hearts, & A Saturday Afternoon
MILFORD — It was a gloomy Saturday afternoon in November, and best friends Jack Davis and Beau Tannenbaum, both 10, were brainstorming for an activity to pass the time and add some interest to their lives. Rummaging through Beau's room they decided they wanted to sell "stuff", as they said, to raise some money, but they needed a cause. Jack looked at the Tannenbaum family dog, Nesto (Ernesto) and said "I like dogs; how about the Humane Society?" "And the rest," as Beau's dad said, "is charitable history."
Beau is a prolific potter, so some of the "stuff" they found to sell included some of Beau's creations, as well as a few items from his arrowhead and baseball card collections. With a box of treasures, an envelope for the money collected, and their masks they set out knocking at the doors of neighbors in Pocono Woodland Lakes. Within a short period of time Jack and Beau collected $77, a tidy sum for two ten year olds who exercised their altruistic natures to benefit the animals of the Pike County Humane Society.
Most people who gave money declined the "incentives" offered by the boys, but were glad to support their cause. The boys were astonished and impressed by how generous people can be. They also felt some pride in their own accomplishment.
Their kindness and effort is noted and appreciated by the PCHS.
By the way, Nesto, the inspiration for collecting the money, is himself a rescue. The 2 1/2 year-old German shepherd mix is from Tupelo, Mississippi.
Well done, Jack and Beau! Those dollars will help to buy some food for the animals, and it will help to keep them safe and warm too.
NARCAN Drive-Through
And Drug Take-Back Day
MILFORD — Carbon, Monroe, Pike Drug and Alcohol Commission; the Pike County Substance Abuse Task Force; Hope for Pike; and the Pike County Sherriff's Office will hold a free NARCAN Drive-Through Event and Drug Take-Back Day on Saturday, Dec. 5, from 10 a.m. to noon, behind the Pike County Administration Building, 506 Broad Street, in Milford, PA.
The public is invited to drive up to receive info bags including NARCAN kits, DisposeRX bags, informational materials for help with substance abuse, and other community resources. Waivers must be signed regarding how to obtain training in administering NARCAN.
There will also be a drug take-back container where the public can drop off prescriptions, patches, over-the-counter meds, vitamins, samples, and pet meds. All medication should be taken out of prescription packaging and placed in sealed and unmarked bags. Items not accepted include hydrogen peroxide, inhalers, aerosol cans, thermometers, oils, lotions, liquids, and medications from businesses or clinics.
The event is made possible by a State Opioid Response Grant through the Department of Drug and Alcohol Program.
For more information, contact the Carbon, Monroe, Pike Drug and Alcohol Commission at 570-296-1054.
County: Go Online Or Telephone
To Mitigate Spread Of COVID-19
PIKE COUNTY, PA — In a continuing effort to protect our community during the current spike in COVID-19 cases, the public is encouraged to conduct transactions and business with county offices either online or by telephone where possible to limit on-site traffic within county facilities including:
• Administration Building, 506 Broad Street, in Milford;
• Area Agency on Aging, 150 Pike County Boulevard, in Hawley;
• Conservation District, 556 Route 402, in Blooming Grove;
• Community Planning and Workforce Development Offices, 837 Route 6, in Shohola; and
• Training Center, 135 Pike County Boulevard, in Lords Valley, PA
Visit www.pikepa.org/online for a list of county services available online.
For essential business that must be conducted on-site, it is advisable to call the specific department or office in advance. Visit www.pikepa.org/offices for contact information.
Masks covering the mouth and nose must be worn within county offices and common areas, and social distance should be maintained.
Two Charged In Fatal Drug Delivery
BLOOMING GROVE — Two men currently incarcerated in Pike County Jail on other offenses were charged with a drug delivery resulting in death incident in Pike County April 2020.
The Troop R state police Vice Unit said they obtained electronic communications evidence of orchestrating delivery of fentanyl between the victim of a fatal overdose and Samuel O. Mittelmark, 22, of Shohola, and Kenneth S. Smith, 38, of Honesdale.
The Vice Unit also said Mittelmark and Smith were involved in a larger conspiracy to deliver controlled substances to the area in addition to contributing to the victim's death.
Pike County District Justice Alan Cooper set bail at $250,000, and the accused remain in jail pending a preliminary hearing on Dec. 9.