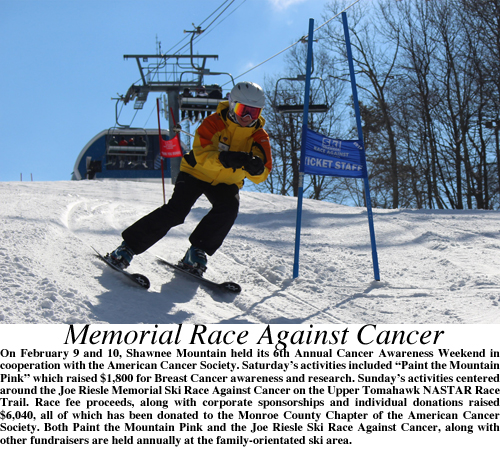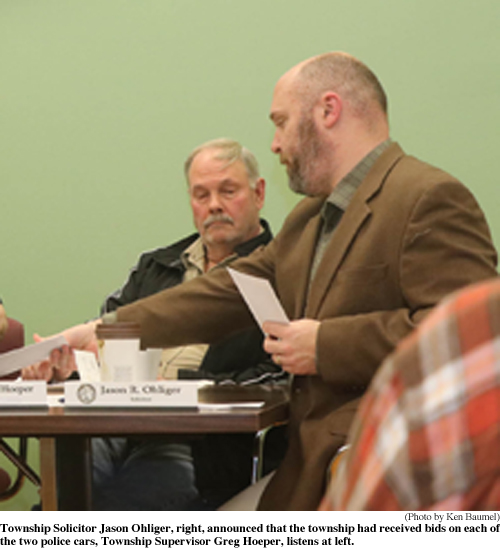 Shohola Sells Cruisers From Defunct Police Dept.

By Ken Baumel

SHOHOLA — With the Shohola Police Dept. dissolved late last year, township supervisors moved to sell department equipment and wind down department records.
At their regular township meeting held last week, supervisors Keith Raser, George C. Fluhr and Greg Hoeper opened bids and offers for the two department patrol cars.
Township Solicitor Jason Ohliger announced that the township had received bids on each of the two cars, one a 2016 Ford, and one a 2013 Ford, as well as an offer for each of the cars from Pike County Commissioners, Eastern Pike Regional Police (Westfall Township and Matamoras Borough) and the town of Highland.
According to Ohliger, intergovernmental transactions are not subject to bid rules in Pennsylvania.
Hoeper advised that supervisors should open all the private bids packets and open the offers from the government entities. That way, supervisors could compare the most attractive bids and offers.
Supervisors then approved selling the 2016 to Highland Lake, NY for $26,100 and the 2013 to the Pike County Commissioners for $15,100, the best offers.
Supervisors also approved hiring retired Pennsylvania State Police officer John Clader at $30 an hour (and another retired law-enforcement officer) yet to be named. Clader would review all the Shohola Police Dept. documents, files, videotapes of witness testimonies, and evidence.
Township Secretary-Treasurer Diana Blume said that the second officer is a witness to the review process.
The reviewer would determine items for disposal, to be kept, or to be forwarded to Harrisburg to be archived.......For more information pick up a copy at a local vendor or subscribe.
Road Task Force Releases Paving Schedule
By Dakota Hendricks

MILFORD — PennDOT Business Manager Charles DeFebo presented a 2019 summer paving schedule to the Pike County Road Task Force. The summer schedule includes paving sections of Twin Lakes Road, Milford Road, Avenue C in Matamoras and part of Route 6.
DeFebo said there have been some changes to PennDOT's Five Year Plan and he will bring the upcoming four years of plans to the next Road Task Force meeting.
There are several projects on hiatus for the winter and several more slated to begin the bidding process in 2020 and 2021. These projects include sidewalk and lighting installation in Milford Borough, slope repair on Wilson Hill Road, bridge replacements in several locations, etc. Several new appointments were made to the RTF, including Timothy Rohner from Lehman Township, Paul Curran of Milford Borough, and Robert Myers from Shohola Township with Keith Raser as the alternate. General construction on the Milford to Matamoras Betterment project will start weather dependent. The project will be broken into three stages. Stage One is the expansion of Route 6 to handle four lanes of traffic between the Delaware Valley High School and Hulst Road. Stage Two consists of mill and overlay from west of Hulst Road to the I-84 Eastbound ramp intersection, and Stage Three consists of upgrading four traffic signals from the I-84 East ramp intersection to the Price Chopper Driveway. The National Park Service has requested emergency funds to work on repairing Route 209. Due to issues with previous attempts at patching the road and the federal government shutdown, the Park Service is falling further behind on repairs.