BG Approves Kahr Arms Shooting Range
By Jessica Cohen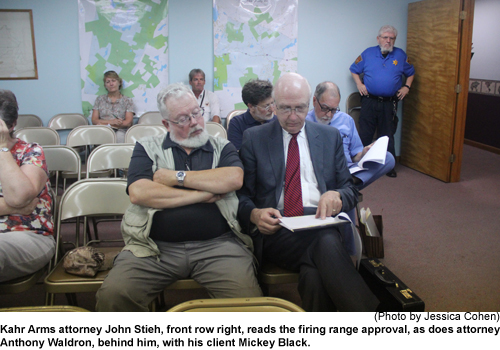 LORDS VALLEY — Kahr Arms' conditional use application for a shooting range was approved by Blooming Grove township supervisors at their Monday night meeting. The document detailing the logic and details of the approval was written by solicitor Stacey Beecher.
Mickey Black, owner of Camp Timber Tops, a little less than a mile away from the range, had brought several witnesses from other states to oppose it at the earlier public hearing. He contended the noise from a shooting range would hurt his business, which invests over $800,000 in the local economy, according to the document. For testing, an AR-15 rifle, the loudest gun to be used at the range, was fired every five seconds, and decibel levels were compared to ambient noise, finding a five-decibel increase, according to the document. Black was quoted as describing the noise as "not that bad. It was sort of a distant sound. We didn't even hear the first two shots, but then we heard it. It might have to do with the wind or weather conditions."
Black particularly voiced concerns about the sound of multiple firings of automatic or semi-automatic guns at the same time. The approval stipulates that if shooting range noise exceeds ordinance limits, sound abatement devices will be required to bring noise within limits. No more than five people can shoot at one time, and organizational groups of no more than 25 can visit the shooting range, but no more than 12 times per year "to preserve the rural character of the community" and prevent excessive traffic, according to the approval.
The approval also requires that all shooting be supervised by an NRA certified Range Safety Officer or by a certified firearms instructor. Shooting will not be allowed beyond a half hour after sunset, 9 p.m. at the latest......For more information pick up a copy for a local vendor or subscribe.
Boro Regulates Traffic And Smoke Shops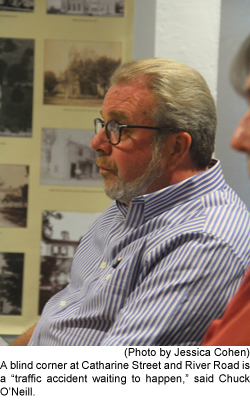 By Jessica Cohen
MILFORD — Traffic flow through Milford Borough is too fast in some places, not fast enough in others, for residents and business owners. The Borough Council grappled with those issues again this week.
"Why would anyone want to come up from New Jersey, cross the bridge, and have to wait in line at the traffic light?" realtor Davis Chant wrote to Mayor Sean Strub in a memo read by Frank Tarquinio.
"We'll try to control the light on Friday nights and Sundays to make crossing easier," Police Chief Matt McCormack said.
However, speeding is also a concern. He announced that new speed enforcement equipment will be deployed by officers in unmarked cars, particularly between 2 a.m. and 3 a.m., as driving under the influence offenses are a focus of new programs. Police will also be "targeting" crosswalk enforcement as well as jaywalking, so drivers not stopping for pedestrians entering a crosswalk will get tickets, and so will pedestrians failing to use crosswalks.
Meanwhile, under the newly revised noise ordinance, neighbors reported three violations, McCormack said. "We gave verbal warnings and documented them."
Another police officer is being hired to cover the night shift, he said, and more officers will be "out and about."
Chuck O'Neill suggested putting stop signs at Catherine Street and River Road, "There's a blind corner. It's an accident waiting to happen," he said.
"You can't do that without studies on traffic," said Council President Frank Tarquinio. He suggested putting up temporary speed bumps, at a cost of about $400, and signs warning of bikes on the greenway. O'Neill asked whether property owners could put up mirrors in their yards and got no objections.
Also being slowed down are new smoke shop businesses. A smoke shop ordinance, previously discussed at length, was approved. It defines smoke shops and limits where they can operate....For more information pick up a copy for a local vendor or subscribe.
Senior Facilities Said To Stress Emergency Services
By Dakota Hendricks
MILFORD — At the Milford Township meeting Monday, Supervisor Penney Luhrs gave a synopsis of the July 26th County meeting about Emergency Management Services.
Luhrs said that a large portion of emergency calls come from senior housing facilities in the region and that combating that could help ease the stress on local fire departments.
Chairman Gary Clark said the senior living centers in the area are not required to run an ambulette service as the issue was not a problem back when the facilities were first built. ....For more information pick up a copy for a local vendor or subscribe.