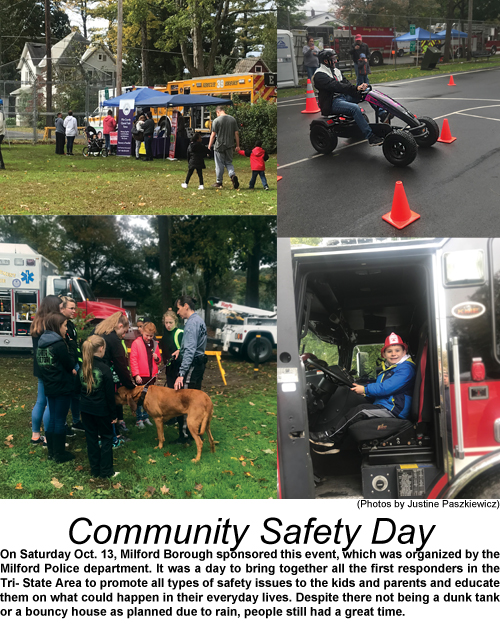 Residents Praise Shohola Officials Handling Of Finances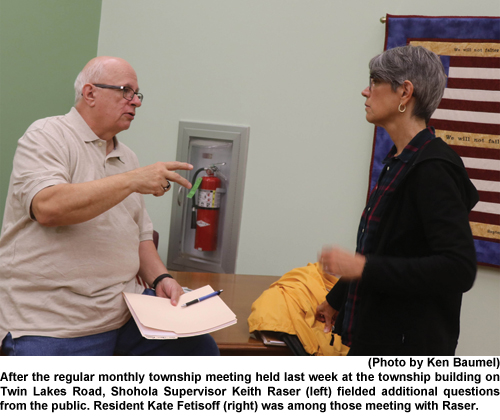 By Ken Baumel
SHOHOLA — Last week's regular Shohola Township meeting was all about hands-on money management, according to Township Supervisor George C. Fluhr.
Fall is budget time for Pike municipalities, and the discussion about money started when Township Secretary/Treasurer Diana Blume announced that Shohola would not have a tax increase in the 2019 budget.
Supervisor Chairman Greg Hoeper and supervisors Fluhr and Keith Raser commended Blume on her work in preparing the budget.
The budget is posted for review at the township building on Twin Lakes Road, pending a public hearing and vote for adoption at the next township meeting at 7:30 p.m. on Nov. 8.
Blume said that during her review of township finances, she noticed that a $50,000 Certificate of Deposit, which carries funds dedicated for local dirt-and-gravel-road projects, is maturing shortly.
Rather than re-investing the money into another CD, Blume recommended cashing it out and investing the money into a state-sponsored PLIGIT money-market fund.
Fluhr said that Blume and supervisors agreed to move about $300,000 from the General Fund that is not earning high interest into a PLIGIT fund.
Blume estimated the two PLIGIT accounts could yield an extra $400 to $500 per month. The payments would be in the form of a dividend, rather than as interest.
When residents John Hahn and Kate Fetisoff questioned if such an investment carries risk, Blume said, "No, the state secures the money."......For more information pick up a copy at a local vendor or subscribe
CORRECTION ON PAGE 4 IN THE STORY "RESIDENTS PRAISE SHOHOLA OFFICALS HANDLING OF FINANCES" THE PHONE NUMBER IS 570-296-6459.
Senior Care Ambulettes Viewed
As EMS Workaround
By Dakota Hendricks

MILFORD — Ambulance services were once again the main topic at this week's Milford Township meeting.
Chairman Gary Clark gave a synopsis of the October 4th Westfall Township EMS meeting, saying the proposal for a county level parcel tax could take years to implement, and the EMT shortage would only worsen if the County brought in paid EMS services.
The Township Board was not pleased with the idea of a parcel tax, as it would not account for parcel size or frequency of EMS use. The owner of two small parcels would be taxed more than a senior care center that is much larger and uses the EMS services more than the average homeowner.
Clark said senior care centers need to find an alternative to calling the ambulance for non-ambulatory cases. He brought up an idea by Supervisor Penney Luhrs that senior care centers might be able to jointly fund an ambulette service to ease the burden on the Fire Department and themselves. Clark noted that Belle Reve Executive Director Travis Martin has been attending the EMS meetings and working with municipal leaders to work towards a solution. .....For more information pick up a copy at a local vendor or subscribe.